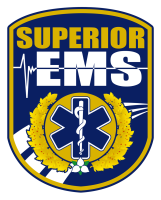 About EMS/Event Medical Services
​​

Superior EMS is a progressive event medical service located in Sault Ste. Marie, Ontario, who services the Algoma Region. Our company is a non-governmental private company that provides comprehensive medical services at community events ranging from corporate picnics, stock-car racing, and even movie sets. We also have fire/rescue technicians able to provide fire/rescue support at your event who are also medically trained.
Unlike volunteer first aid services in the community, Superior EMS provides professional level staffing at your event. This includes paramedics, nurses, nurse practitioners and physicians to meet the safety needs of your event. Our professionals are equipped with the latest of medical supplies and equipment to provide comprehensive basic life support and/or advanced life support care to participants and spectators at community events.
Our fleet includes an emergency response vehicle (ambulance), emergency response cart, two support vehicles as well as stationary medical tents fully equipped with a complement of medical supplies and equipment to provide quality care. We are the only event medical service in the Algoma region to provide symptom relief, intravenous and advanced cardiac life support services at our events to ensure you receive a high level, professional patient care for your patrons.
Although you may see an ambulance type vehicle at your event, it is important to recognize that our focus is to ensure the safety and wellbeing of those on-site.  Superior EMS does not transfer emergency patients to the hospital.  Should a patron suffer an injury they are either managed on site and then discharged should it be a minor injury, or municipal paramedic services are contacted to transfer the patient to the emergency department.  This ensures your event is always protected with EMS personnel on-site. 


7944 Fake Ave, Door 56 Wonderland, NYC 12347

+92452 241564 +92452 458564